Objective
Valve Software, one of the world's leading video game developers was looking for a way to drive consumer interest for their new game in a way that would stand out from all other games that were being pushed by their distributors.
They enlisted the help of Gibson Media to develop the strategic media plan that would dramatically impact the consumer and generate incremental sales globally.
Media Strategy
Using a mix of train station dominations, Wallscapes, banners in Times Square, bus wraps, and Go Mobile trucks, we were able to gain a dominant presence in the top 10 U.S. markets and the U.K. A "tonnage" play was implemented using outdoor, additional transit, and digital ads. This campaign was augmented by targeted TV (e.g., Monday Night Football) and game website homepage takeovers.
Result
L4D sales came in 160% over that of the Orange Box (their previous blockbuster series), earning Left 4 Dead's claim to Game of the Year.
"Working with Gibson Media to infect buses, train stations, highways and city streets in many major metropolitan areas in the US and UK has been a tremendous contribution to the game's pre-launch momentum. Pre-orders are runnings 95% over those of The Orange Box."
- Dough Lombardi, Vice President of Marketing, Valve Software
(Team X-box article)
CREATIVE STRATEGY : THE HAND
Valve has a great in-house multimedia team. They developed the original logo for their blockbuster game. We advised them to integrate the iconic imagery of "the hand" prominently in advertising executions. For Left 4 Dead and its sequel, Left 4 Dead 2, we sought to get that hand everywhere. We wanted it seen in a big and bold way.
Advertising mediums were selected that showcased the icon most powerfully. People in target cities could not go anywhere without seeing the hand.
TAKING BRANDING UP A NOTCH
Objective
For the first release of the series, Valve wanted to do something to stand out in New York City — something that would glean press coverage and establish a bold presence in the nation's top market.
Strategy
We decided to take the challenge up a notch literally, by letting millions of people a day see our intriguing teaser ad in Times Square.
Result
Top gaming blogs (eg. Kotoaku) loved the innovative placement.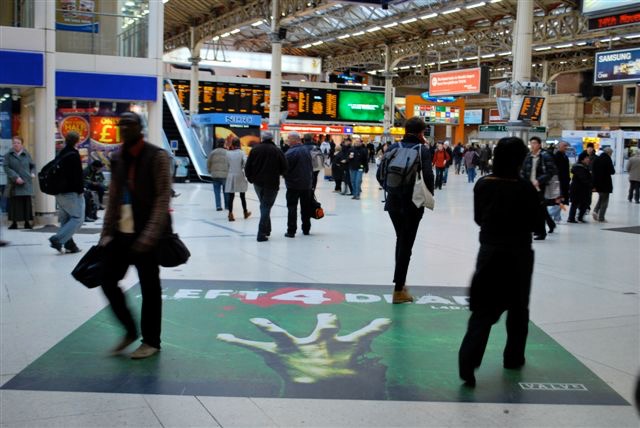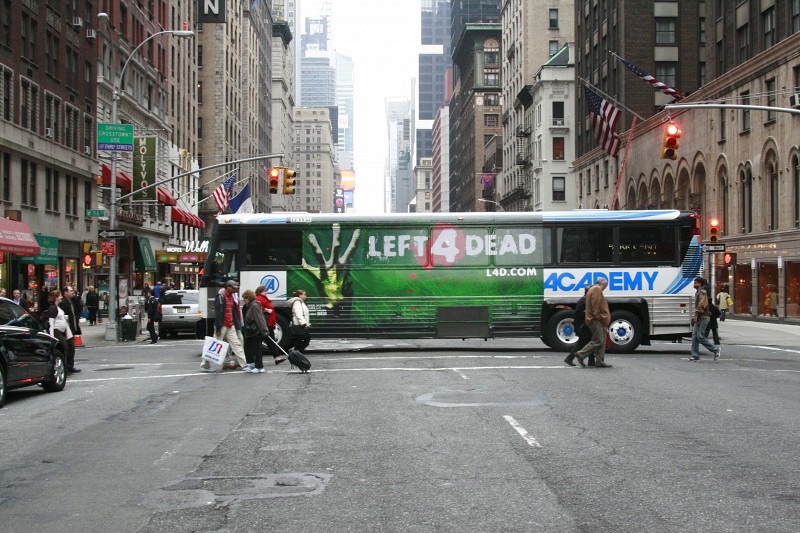 Objective
Valve wanted to expand their fan base to college students and "ESPN" viewers who purchase one to two video games a year.
Strategy
We built a grassroots plan around key flagship schools and campuses (Harvard, Princeton, etc.) to increase awareness among the target. GoMobile trucks were driven around campus and generated a buzz that virally spread to blogs everywhere. Digital media was geofenced around key school communities & key contextual sites were purchased to reach gamers.

SOCIAL ENGAGEMENT
Objective
Valve wanted to stimulate social engagement around the release of the new title.
Strategy
The powerful iconic hand imagery and broad market media saturation globally led to a cool viral idea: a Zombie photo contest, dubbed the "Dude Where's my Thumb" contest. Left4Dead Fans took a creative picture of themselves in front of an outdoor media display world over (placed by Gibson Media) and then submitted it online. Gabe Newell, Valve's President, then voted for the best pictures and winners received prizes, including a new gaming PC from AMD.
Result
Thousands of submissions came in and the viral fan base extended. As part of our social strategy we also implemented a Fan Acquisition campaign on Facebook, gleaning over 30,000 fans in just two months.